Sunny side up! The best sunglasses for your face shape
"Just Briefly"...
The sun is treating us to a great summer. After finding the perfect swimsuit for your body shape, you'll want to top it all off with the perfect sunglasses (for eye protection of course, not just for a fabulous fashion statement)! We've picked some handy tips up from one of our most recognised swimwear brands Seafolly, to find the style that will enhance your favourite facial features. You'll be left wanting to check yourself out in the reflection of others' sunnies all afternoon long.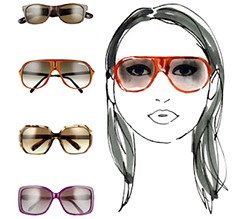 Rachael the Round

Those with a round face shape have full cheekbones with a narrower forehead and jaw.
Straight or slightly angular glasses will minimise curves and add angles to your face and definition to your cheekbones.
Avoid oval and circular styles, as they will make your face appear fuller.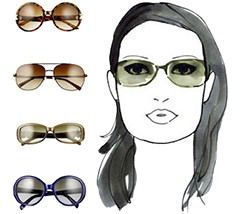 Sarah the Square

A square face shape has a strong, defined jaw matched by a wide forehead.
Wide and narrow sunglasses will downplay the strong jaw line and make your face appear longer.
Curvy styles such as the cats-eye will also give your face more definition.
Steer clear of square frames.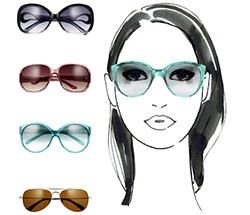 Olivia the Oval

Oval faces have a balanced forehead, jawline, and cheekbones.
One feature isn't more dominant than the other.
Because of this, virtually any shape will suit if the sunglasses are as wide as the broadest part of your cheeks.
If you have delicate facial features, don't go too big with your glasses.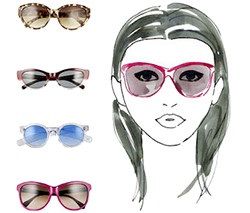 Hilary the Heart
If you have full cheekbones, a wider forehead and a tapered jaw, then you likely have a heart shaped face.
Semi-rimless or cats-eye shapes are best because they create a soft look and bring focus to your eyes, whilst balancing your jaw area.
Avoid sunglasses that are top-heavy or that sit too high, as they will draw attention to your forehead.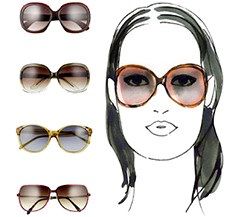 Odette the Oblong
An oblong face is softer than a square and more angular than an oval.
The aim is to balance the length by of the face by wearing wider and fuller sunglasses.
You want to make sure they add width to your face and not length.
Keep a soft curved edge to soften the jaw.
Images sourced from http://www.sothebys.com/conten.... Text adapted from the Seafolly Product Manual 2015/16 & theclothingcove.com
Can't wait to see you all waltzing into the store in your sassy sunnies! x
Find something else to read...
more "Just Briefly..." thoughts & articles from the blog
See all posts