Sourcing & Sustainability
Like many other individuals and businesses, we care a lot about where our products come from – including the working conditions of those who make them, and environmental responsibility.
We make significant effort to gather thorough and accurate information from our suppliers regarding these issues, and to give them regular feedback about their importance to us.
The good news is that our core suppliers also care about these issues. They have long-term relationships with a small number of global factories (or in some cases own the factories themselves), deal directly with them, and ensure they are audited in accordance with internationally recognised standards, (for example WRAP – Worldwide Responsible Apparel Production). We have good confidence that human rights abuses such as child labour and forced labour are not in our supply chain.

Quality products
One of the best ways to reduce clothing waste is to buy quality items and use them for a long time! Our core business is providing a fantastic fitting service that means our customers leave with quality lingerie and swimwear that fit well and will be worn many times, not simply worn once and thrown out. This expert fitting service takes significant time and resources to maintain, and it is one of the biggest contributions The Fitting Room can uniquely make.
Packaging
This area is a key challenge for retailers. It's improving all the time as our manufacturers make consistent advances e.g. hangers made from recycled plastic, cardboard packaging etc. We have given, and will continue to give our suppliers feedback to reduce waste. Simple measures such as asking our suppliers not to send hangers unless we need more, limits the waste. In terms of recycling in our own stores, we are able to recycle all plastics in a specialised recycling collection bin.
Reusable cloth bags
For all the time we've been in business, we have sourced ethically produced re-usable bags for customers to leave our shops with. Currently we source our bags from Crafts and Creations, a business based in Jaipur, India. They make bags using organic cotton and provide work for up to 150 women from villages around Rajasthan. View their site...
Environmentally, our suppliers have made commitments to work to continually work toward sustainable practices. Among other things this includes energy use, waste reduction, fabric manufacture and content.
Some of them have committed to targets for 2025 and/or 2030 and to giving annual progress reports. After researching and reading some of these reports, it is clear that genuine advances are being made. From generating renewable energy (e.g. solar) to committing to reducing product waste from 1% to zero, and manufacturing fabric and yarn from renewable resources and recycled material, our suppliers are setting goals, measuring their progress, and making that data public.

Recycling bras
Both of our Christchurch stores are a collection point for the Uplift Project, which sends bras to needy areas in the Pacific Islands. We send any faulty product there, if they're wearable but not saleable, or used customer returns, and product samples. Pauline Watson (centre) from Christchurch, until recently was the Regional Coordinator of Uplift Project, has been at least twice to the Pacific herself, assisting with distribution and fitting of the bras. We gave her a 'crash course' in fitting! Regular feedback assures us these bras are definitely needed and well received.

Want to know more? Visit their site...
Swimwear materials
Swimwear production in particular is making rapid progress in sustainability. Swimwear is increasingly made from recycled or sustainably produced fabrics e.g. Zoggs which is made from 100% upcycled plastic waste from oceans, and one of Seafolly's most recent collections was made from 60% regenerated fibres. Sunseeker is using REPREVE nylon and polyester, ECONYL and RENEW nylon, made from a variety of pre and post-consumer waste, and industrial waste including plastic bottles, and discarded fishing nets.

Want to know more? Read about Zogg's Ecolast fabric...
Panache
Panache is one of The Fitting Room's core suppliers. It is a family-owned business based in England. Deborah and Justin visited their base and offices in Sheffield and were shown round the distribution warehouse. Panache's products are made in six factories in China and Thailand. They have a long-standing relationship of between 10-20 years with every factory, all of which are visited several times each month by Panache staff based in China and Thailand, for quality control.
*Picture: Justin Stevenson, co-owner of The Fitting Room during their visiting to the Panache distribution warehouse.
Wacoal are our suppliers for key brands Elomi, Fantasie, Freya, Goddess & Wacoal. In 2020 Dynamic Energy Solutions, LLC announced the completion of a 965 kW rooftop solar array for Wacoal America at their headquarters and distribution center in Lyndhurst, NJ, and explained the project's goals and company vision.
"Investing in this rooftop solar facility underscores Wacoal America's commitment to technical innovation and environmental stewardship. 'Wacoal is excited about the completion of the solar installation and the opportunity to generate solar energy. This solar project with Dynamic Energy moves us in the right direction toward our Sustainability Initiative in support of our Corporate Social Responsibility', said LaRome Talley, Senior Vice President of Finance at Wacoal America."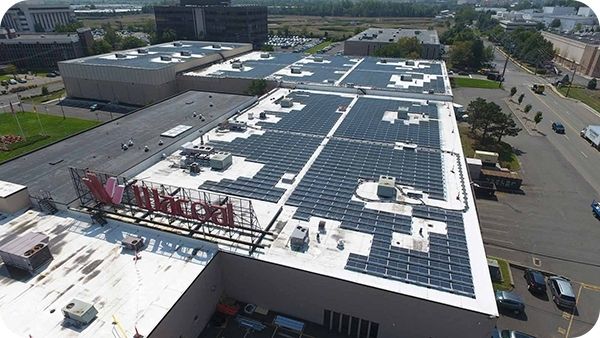 "The 965 kW system is expected to generate approximately 1.2 million kWhs of electricity annually, avoiding the emission of 935 tons of carbon dioxide per year, while contributing to New Jersey's renewable energy targets."
"Just Briefly..."
Welcome to our Blog. Make yourself comfortable & have a read...
See all posts